Rectangular duct machine
To cost-efficiently produce rectangular ducts or cooperate with duct lines,
we still need many duct machines for the duct forming works!
In this series, we manufacture Duplex TDF Flange Forming Machine, TDF Flange Former, Lock Former, Decoiler, TDF Folding Machine, Pnuematic TDF Folding Machine, Beading Machine, Slitting Machine, Electric Shearing Machine, Lock Seamer, Auto Lock Seamer, Corner Matics, Hydraulic Guillotine, Hydraulic Press Brake and etc...
Duplex TDF Flange Forming Machine
To overcome the normal TDF flange forming machine's disadvantage

that only one end of the plate can be operated to form flange,
duplex TDF flange forming machine provides a perfect solution for that.
Flange forming can be achieved for both ends at a time,
which makes the flanging process much more efficient and stable.
This machine is a top priority for companies who are short of staff

but desired for massive production.
TDF flange forming machine/TDF rollformer,

mainly used for making flange at edge of plate for further joint,

is also among basic equipments for modern duct forming line.
All bearings used are ball bearings rather than traditional

needle bearings so the machine more durable.
All gears, axles and rollers equipped in the machineare made from

high quality steel to ensure their stability and durability.
The flange shape made by the machine is nice and practical,

which makes it a perfect part of duct forming line.
Our TDF rollformer has two version, T-12 capable of 1.2mm

and T-15 capable of 1.5mm galvanized metal sheet.
This decoiler is specially designed for duct forming line to

make the material loading and transporting stable.
It can hold 5tons of coils.
Preda 7-function Lock former/Pittsburgh machines!
1. SA-12HB is capable of 1.2mm galvanized steel and SA-15B is

capable of 1.5mm.

Main difference between SA-12B and SA-15B is the rollers used.
2. To fulfil international customers' requirements on electrics standard.

We are able to change our motors and electrics

as per requested free of charge!!
3. 380V/50HZ/3PH is the regular standard for our machine.

Yet we can manage them into 220V/50HZ/1PH or 420V/50HZ/3PH...

Cost is free of charge as a cooperation to our international customers!!!

4. Lock shapes/pins for below,


1.Arc shape 2.Claw shape 3.Orthogonal shape 4.U shape 5. Union shape 6.Z shape 7. Lock pin
Preda Manual TDF Folding machine is specially designed for

HVAC duct folding process.
It can be used together with TDF Flange Forming machine and

Pittsburgh machine to make rectangular HVAC ducts!

Light weight and ease for operating/transport make it suitable

under many circumstances,

especially for short-term working at the construction site.
Machine produced with customerized length can be achieved.
To achieve higher production efficiency and less labor work,

pneumatic folding machine is a good alternative,
compared with manual TDF Folding Machine.
The operating principle is to use air cylinder to replace manual power

without even using electricity.
Rigid frame with strong steel welded is simple but nice.
Low electricity consuming and ease for operation make it widely

used for bending thick steel plate sheet.
It is capable to make 1 to 5 grooves with width adjustable for

customer's certain requirements.
Beading&slitting machine or groove&shear machine with

grooving and shearing function together,
specially designed for duct forming!

Just need to change the mould when you want to use its certain function.
Pneumatic corner matics for rectangular duct forming process!

Fixing one corner will take only about 6seconds!!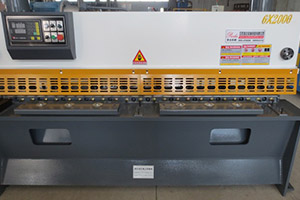 Hydraulic Guillotine
remarkable cutting quality and capacity in great cost performance

Rigid frame is built with thick concrete plate steel to ensure function

stability and durability.
Hydraulic powered system is to realize precise working power,

easy and safe operating.
Rake angle realized by a 0.5° to 3.5° tilt of the upper blade holder makes

the cutting more stable and enlarges the working capacity of thicker

steel plate.
Back gauge retracting range of 10mm-900mm satisfies customer's common needs.
High mechanical strength and great rigidity is due to integrated

welded steel structure.
Hydraulic powered system is to realize precise working power,

easy and safe operating.
Simplified upper dies clamp with micro-adjustable wedges for high precision
Pre-installed upper dies with 88° angle andsolid block lower die with four

face multi "V" frame.