Snap lock forming machine

| | |
| --- | --- |
| Brand: | Preda |
| Model: | SA-12 |
| Stock: | 10SETS |
| Specification: | 1.2mm capacity |
| Send an inquiry: | jason@predamachine.com |
Preda brand square duct snap lock former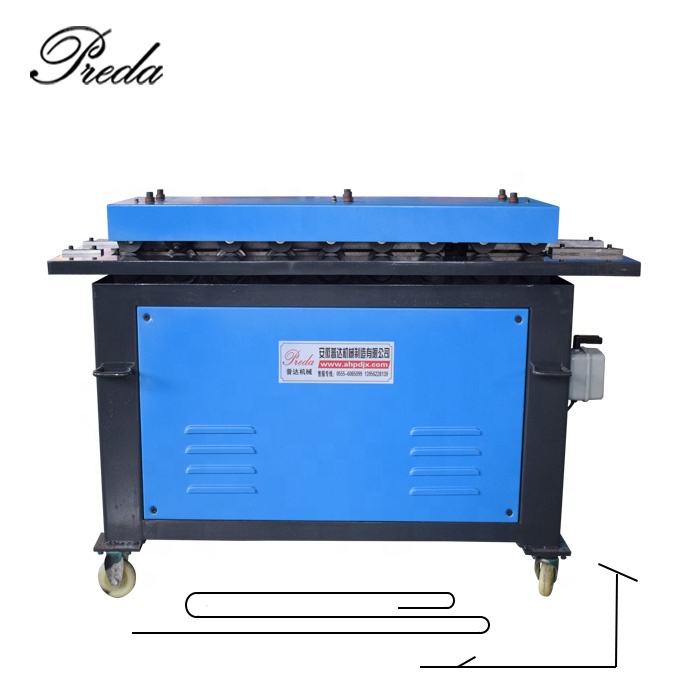 Product Description
Duct Pittsburgh Lock forming machine/Pittsburgh lock roll former is a basic HVAC duct forming machine that forms the locks of a duct.
Preda Machine Pittsburgh lock former is made from highest quality components which include an all steel forming head hardened with ground shafts.
The steel forming rolls on this Pittsburgh lock machine are hardened using matching cut gears and needle bearings which can be used for years.
Main Features
1) Small and mobile machine.
2) Only one person can operate, it don't need a lot of people to operate.
3) More functions, suitable for the HVAC duct production requirements.
4) The machine is widely used, and one machine can be used for many years.
5) Suitable for 0.5-1.2/1.5mm galvanized steel coil, can be successful at one time.
Model

Sheet thickne (mm)

Shape

Power (kW)

Weight

(kg)

Dimension L*W*H (mm)

SB-12

0.4-1.0

2.2

250

1060*580*900

More About Duct Pittsburgh Lock Forming Machine

When it comes to duct manufacturing machines, the preda lock forming machine is the most worth discussing. Our lock foming machine likes a popular star, it can work different shapes, and those shapes can meet with the need of the duct manufacturing industry.
Preda Machine lock forming machine has two kinds of voltages, 220v/380v. Of course, we can also change the voltage according to your country's voltage to meet the actual voltage produced in your country.
Preda lock forming machine has the best working wheels. The wheels of the lock forming machine are made of high quality 45#steel and 9CrSi material.They are machined by CNC machine tools. Because of this, the wheels of the lock forming machine are high density and will not be damaged easily. These processed wheels of the lock forming machine are treated by a high temperature quenching process, which increases the original hardness and gives them a longer service life.
Preda Machine pittsburgh lock forming machine is needed by many countries.The lock forming machines will be acquired when our customers purchased a set of auto duct line, or will be purchased one preda lock forming machine and other preda machines to composition a complete set of simple duct production line.
Preda Machine pittsburgh lock forming machine will be a great choose when you decide to add a helpful lock forming machine!!

Anhui Preda Machinery Manufacturing Co., LTD. is a manufacturing company. Our company is committed to the production of HVAC duct production machines. Our company has more than 10 years of production and export experience. Anhui Preda Machinery Manufacturing Co.,LTD is located in Hongyang Industrial Park, Bowang Town, Bowang District, Ma'anshan City, Anhui Province, China. It is only 20 kilometers away from Nanjing International Airport, which also facilitates customers from all over the world to come to our factory to have a convenient face-to-face conversation and visit.
We manufactured and exported auto duct lines, CNC plasma cutting machine, TDF flange forming machine, pittsburgh lock forming machine, spiral duct forming machine, elbow making machines, TDC flange forming machine, oval duct forming machine and so on. All our machines are popular in the ventilation pipe manufacturing industry. We also exported CNC hydraulic press brake machine, CNC hydraulic shearing machine with factory price and best quality. All of our duct machines are in stock, we will manufactured the most of standard commonly used machine as inventory, so if our customers need, we will arrange delivery all the time.
We also have our after-sale servie teams, we support our engineers overseas service. When you met the problems, we will help you solve the problem in time, and all the machines we will have a lifetime warranty. We use our sincerity to serve our customers and expect more customers to choose Anhui Preda Machinery Manufacturing Co., LTD.




Delivery details
Customers purchase our auto duct lines and we will ship them through containers. The auto duct line 3 and the aut duct line 2 will be transported through the 20' container, and the auto duct line 5 and U-shape auto duct line will be transported through the 40' container. CNC plasma cutting machine will also be transported through the 20' container. All machines transported through the container are inside the container which we will pull the two sides of the machine with thick wire ropes and hooks so that they do not shake during shipping and cause the machine to collide. A certain amount of movable space is reserved between the machine and the machine to ensure that the machine is intact when it reaches the customer's factory.
The packaging of small machines such as the duct TDF flange forming machine, the pittsburgh lock forming machine, and the elbow making machine will be packed in wooden cases. The chassis is welded by channel steel and the bottom is reserved for 10cm for easy loading and unloading. It will be fixed with wooden boards around to avoid collisions during transportation.
1. How to get a accurate quotation from Preda Machine?
Provide the machine name you want, the specifications you need and the quantity of machine, we shall quote accordingly!
2. What's the shipping cost from China to your country?
Please kindly tell us your nearest port to your place. We have reliable shipping forwarder to insure cheap, safe, convenient and timely delivery via sea.
3. Payment terms, MOQ, warranty, FOB.
Payment terms: 20% TT paid in advance, the balance of 80% before the shipment.
Minimum order quantity: 1 set of any machine of Preda Machine.
Delivery time : 5days after order confirmation. As a real manufacturer, we normally stock our machine in at least 5-10 sets including auto duct line 5, auto duct line 3, auto duct line 2!
And at least 20 sets each for TDF flange forming machine, Pittsburgh lock former, TDF folding machine, Pneumatic folder and etc...
Shipping terms : FOB, CFR, CIF and etc.. according to your requirements.
Warranty:24 months after our machines arriving at you.

4. What's the package?
Fumigation-free plywood case for LCL and nude package for full container basis such duct production line 5, duct auto line 3, duct line 2...
5. What about commissioning service?
We can offer commissioning service, the buyer need to pay for all the transport, salary, hotel, meals for Preda Machine technicians caused during the service period.
6. What's policy for guarantee and broken parts?
Warranty period of equipment is two years, during which the broken parts and spares caused by quality can be offered free. After guarantee period, all broken parts or easy wearing parts will be charged in a most competitive price ever in the market!