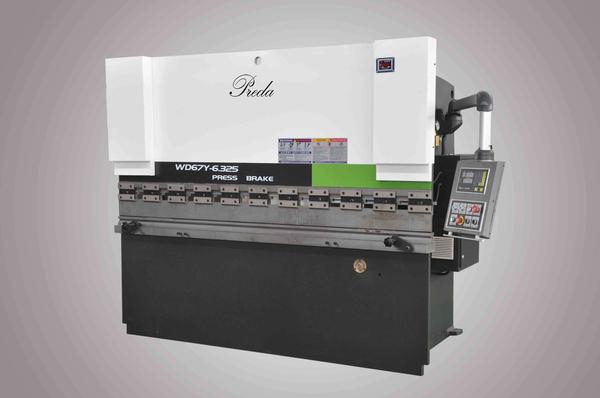 General characteristics apply to all our NC press brake series,
High mechanical strength and great rigidity is due to integrated welded steel structure.
Hydraulic powered system is to realize precise working power, easy and safe operating.
Simplified upper dies clamp with micro-adjustable wedges for high precision
Pre-installed upper dies with 88° angle andsolid block lower die with four face multi "V" frame.
Back gauge is equipped with Euro-made ball screw and slick rod for fast and precise back gauge transmission.
Finger pin for flexible and precise positioning of back gauge can be adjusted up and down as per needs.
Steel/nylon front supporting arms are equipped to transfer workpieces.
Preda has the capability providing customized tools(blades & molds) for users' special requirements.
PLC controls hydraulic system and the movement of back gauge to achieve efficient and highly precise positioning.
Further devices can be equipped with more characteristics:
Safety device with light/laser guards the fingers well.
Deflection compensation system or the crowing
controlledby NC system beneath the work table is for more precise bending results.
Specification,
Model

Nominal


Force

(KN)

Worktable


Length


(mm)

Distance


Between


Columns (mm)

Throat

Depth


(mm)

Slider


retraction


(mm)

Max. Open


Heigth


(mm)

Working


Power


(Kw)

G.W

(Kg)

Dimension


(LxWxH mm)

40/2200

400

2200

1650

200

100/11

330

4

2900

2360*1470

*2140

40/2500

400

2500

2000

200

100/11

330

4

3500

2600*1555

*2135

50/2500

500

2500

2150

240

100/11

340

5.5

4000

2500*1400

*2000

63/2500

630

2500

1900

250

120/10

360

5.5

4500

2600*1600

*2300

63/3200

630

2500

2600

250

120/10

360

5.5

5500

3300*1600

*2300

80/2500

800

2500

1990

280

120/10

360

7.5

5200

2600*1730

*2500

80/3200

800

3200

2600

320

120/10

380

7.5

6600

3300*1700

*2300

80/4000

800

4000

3100

320

120/10

380

7.5

7600

4100*1700

*2300

100/3200

1000

3200

2600

320

120/8

380

7.5

7200

3300*1800

*2400

100/4000

1000

4000

3100

320

120/8

380

7.5

9400

4100*1800

*2400

100/4500

1000

4500

3100

320

120/6

380

7.5

9900

4500*1700

*2420

100/5000

1000

5000

4000

320

120/6

380

7.5

10500

5050*1540

*2780

125/2500

1250

2500

1850

320

130/6

390

11

8000

2600*1725

*2570

125/3200

1250

3200

2250

320

130/6

390

11

9200

3300*1850

*2570

125/3600

1250

3600

2950

320

130/6

390

11

9800

3670*1850

*2600

160/2500

1600

2500

1840

320

200/6

440

11

10000

2570*2110

*2760

160/3200

1600

3200

2600

320

200/6

450

11

11700

3300*1600

*2600

160/4000

1600

4000

3200

320

200/6

450

11

13200

4100*2000

*2600

160/6000

1600

6000

4820

320

200/6

450

11

20000

6100*2000

*3200

200/3200

2000

3200

2600

320

200/3

500

11

13000

3300*2100

*2800

200/4000

2000

4000

3100

320

200/3

500

11

14500

4100*2100

*2900

200/5000

2000

5000

4000

320

200/3

500

11

16200

5100*2100

*3000

250/3200

2500

3200

2600

350

250/3

550

18.5

15000

3300*1900

*3200

250/4000

2500

4000

3200

350

250/3

550

18.5

16500

4100*2200

*3500

250/5000

2500

5000

4000

350

250/3

550

18.5

19800

5100*2200

*3500

250/6000

2500

6000

4800

350

250/3

550

18.5

25000

6100*2200

*3500

300/3200

3000

3200

2600

350

250/2.5

550

22

23000

3300*1900

*3250

300/4000

3000

4000

3200

400

250/3

550

22

24260

4100*1950

*3250

300/5000

3000

5000

4000

400

250/3

550

22

27000

5100*2600

*4000

300/6000

3000

6000

5000

400

250/3

550

22

29200

6100*2600

*4200

300/7000

3000

7000

5620

400

250/3

550

22

31500

7100*2600

*4400

320/7000

3200

7000

5620

400

250/2.5

600

22

32500

7100*2600

*4400

350/3200

3500

3200

2600

400

250/2.5

680

30

25000

3300*2000

*3250

350/4000

3500

4000

3100

400

250/2.5

680

30

26260

4100*2000

*3300

350/6000

3500

6000

5100

450

250/2.5

680

30

31200

6100*2600

*4200

350/7000

3500

7000

5620

450

250/2.5

680

30

34500

7100*2500

*4500

400/3200

4000

3200

2500

320

250/2.5

380

18.5

30210

3300*2500

*3600

400/4000

4000

4000

3100

350

300/2.5

620

30

31000

4100*2700

*3800

400/5000

4000

5000

4100

400

250/2.5

620

30

35000

5100*2180

*3500

400/6000

4000

6000

4820

400

320/5.5

620

30

39000

6100*2800

*4200

400/6500

4000

6500

5100

400

320/2.5

620

30

4400

6100*2800

*4300

400/7000

4000

7000

5600

400

320/2.5

620

30

49000

7100*2750

*4800

400/8000

4000

8000

6400

400

250/2.5

600

22

54000

8100*2750

*4800

500/4000

5000

4000

3100

400

320/2.5

710

30

42000

4100*2000

*3300

500/5000

5000

5000

4100

400

320/2.5

630

37

49000

5100*3000

*4400

500/6000

5000

6000

4820

400

320/2.5

630

37

56000

6100*3000

*4700

500/7000

5000

7000

5620

400

320/2.5

630

37

63000

7100*3000

*4900

500/8000

5000

8000

5620

400

320/2.5

710

30

70000

8100*3200

*4900

600/4000

6000

4000

3200

400

320/2.5

710

37

49000

4100*2965

*4900

600/5000

6000

5000

4000

400

320/2.5

710

37

56000

5100*2965

*4700

600/6000

6000

6000

4820

400

250/2.5

630

37

63000

6100*2965

*4700

600/7000

6000

7000

5620

400

320/2.5

630

37

70000

7100*2965

*4900

600/8000

6000

8000

6000

400

320/2.5

710

37

77000

8100*2965

*5000