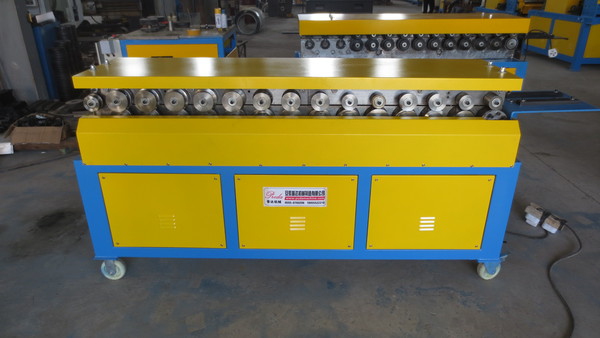 Brief Introduction,

TDF flange forming machine/TDF rollformer, mainly used for making flange at edge of plate for further joint,

is also among basic equipments for modern duct forming line.
All bearings used are ball bearings rather than traditional needle bearings so the machine more durable.
All gears, axles and rollers equipped in the machineare made from high quality steel to ensure their stability and durability.
The flange shape made by the machine is nice and practical, which makes it a perfect part of duct forming line.
Preda TDF rollformer has two version, T-12 capable of 1.2mm and T-15 capable of 1.5mm galvanized metal sheet.

Specification,
Model

Power (Kw)

Plate Thickness

(mm)

Shape

Size (mm)

Weight (Kg)

Dimension (L×W×H, mm)

T-12

2.2

0.5~1.2




32±0.5

1000

2900×700×1100

T-15

4

0.8~1.5




32±0.5

1200

2900×700×1100